Bio for Dr. Mike Lockett - THE NORMAL STORYTELLER
Dr. Michael Lockett is a teller of traditional tales in a non-traditional manner. Mike is a lifelong storyteller and had added writing children's books to his bio . Lockett has been telling stories for 40 plus years in his positions as a storyteller, teacher, principal, central office administrator and educational consultant. Because he lives in the small town of Normal, Illinois, he enjoys being called "The Normal Storyteller." But, there is little that is NORMAL about Mike. He brings high energy and creative uses of audio sound effects to his family friendly stories. He gives many programs in Asia where he affectionally is known as "Miko Yeh Yeh" - which means "Grandpa Mike.
Mike has given more than 4000 presentations and workshops in 30 states across the United States and as far away as eastern Asia. He has performed in fifteen countries. He is the author of The Basics of Storytelling (Taiwan, 2008). Lockett hopes to soon release a revised version of the book for the American market. He released a DVD of children's stories in Taiwan in August, 2008. An American version of the DVD, "Tales of Delight," was released in June, 2009 and received the 2009 DVD of the Year Award from Creative Child Magazine. Dr. Lockett has produced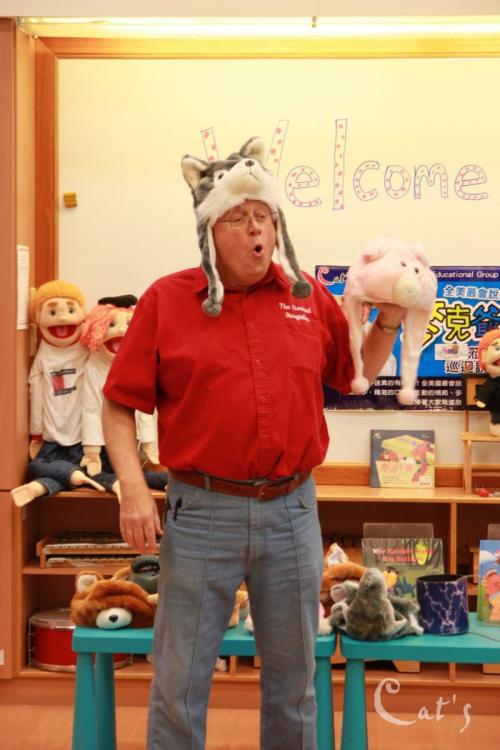 5 audio CDs of stories and music. The most recent audio CD is Christmas from the Heart. (2012). Dr. Lockett has received a total of twenty-five awards for his books and audio storytelling products. His Christmas album was recognized with a Storytelling World Award in 2014. He is among the one of the top 1% most endorsed storytellers on @LinkedIn in United States for his storytelling abilities.
Dr. Lockett has published nine children's bilingual picture books (Chinese and English). The first four books were released by Brilliant International Group to the Asia market during Dr. Lockett's tour of South Korea, Taiwan, Shanghai and Hong Kong in July/August, 2009. The titles were The Cat and the Mouse, Hickory Dickory Dock, Mary Had a Little Lamb, and Teddy Bear. B.I.G. released Monkey and Rabbit and The Magic Eyes of Little Crab in January, 2010 during Dr. Lockett's sixth tour of eastern Asia. All of Lockett's books have been rated as "Family Approved" by the Dove Foundation. The books are available for purchase on this site. American book stores can go to Small Press United to order the books. Why Spiders Have Big Bottoms and Sky Food were released in November, 2012 by Santa Publishing in Taiwan. The newest book is Humpty Dumpty and the Great Fall, also by Santa Publishing. It was released in November, 2013. Four more books, The Hungry Wolf, The Turtle Who Could Not Stop Talking, The Goats in the Garden, and The Giant Pumpkin are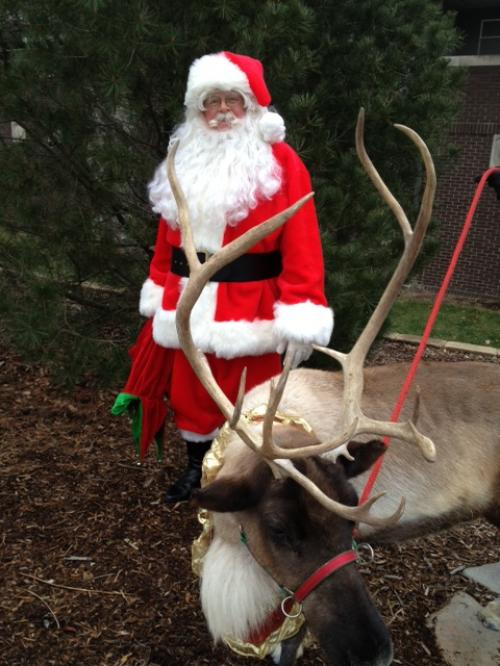 scheduled for release during winter, 2016. Dr. Lockett has written a fourteenth book with 20 stories for young children for Korean publisher JY Books. The release date has not been determined. Four of Dr. Lockett's books were printed in an English/Spanish format in 2016. (The Cat and the Mouse, Hickory Dickory Dock, Mary Had a Little Lamb and Humpty Dumpty and the Great Fall).
Mike Lockett is a regular presenter at schools, libraries, churches, festivals and conferences. He has served multiple times as a storyteller and keynote speaker at the Illinois Young Author's Conference. He gives frequent reading and writing talks and assemblies at public and parochial schools.
Mike's stories have played on a variety of radio programs:
WVEW-LP 107.7FM in Brattleboro, VT. - The Monkey and Mama Program
KSVY-FM in Sonoma, CA - Storylovers' World - with radio and storytelling host, Jackie Baldwin
CJLY Kootenay Co-Op Radio - Nelson. British Columbia, Canada - Tale Spinners & Mortimer Nelson
Radio Taiwan International - The Voice of Taiwan -
Live365.com - World of Storytelling Radio - Mike Lockett's stories are part of a rotation of stories by some of the finest storytellers in the USA. This computerized radio station is free to listen to. Visitors to Dr. Lockett's site are encouraged to click on the link and listen to Mike and many other storytellers. If you like what you hear - please follow directions on the radio site to rate Mike's stories. Better ratings helps the stories get played more often. The station was the brainchild of storyteller, Don (Buck) Creasey. The station is supported by the National Storytellng Network and the Christian Storytelling Network.
WJBC - 1230 AM and WBNQ in Bloomington, IL.
WOAM - 1350 AM Radio in Peoria, IL have interviewed Dr. Lockett about his storytelling programs. Lockett was interviewed by Royce Elliott on the "Royce and Roger Morning Show."
The following list shows notable organizations for whom Dr. Lockett has given presentations. His work has included 17 tours of Taiwan and 9 of China.:
Taiwan Storytelling Camp, Supported by MMC Starlight and Encyclopedia Britannica
International Storytelling Festival, Tehran, Iran
Stone Soup Storytelling Festival, South Carolina
St. Louis Storytelling Festival
Tennessee State Reading Conference
White Mountain Storytelling Festival, New Hampshire
6 Weeks as Storyteller for Prime Time Reading Project, National Endowment for the Humanities, 2014
2-Week tour for Literacy Work and Dulcimer Workshops in Taiwan, 2014
5-Week tour of Storytelling/Book Release Tour of Taiwan and China, 2013
Kentucky State Reading Conference
Bible Storytelling in Israel and Palestine
Taiwan Reading Conference - Co-Sponsored by the International Reading Association
Diamond State Reading Association in Delaware
Cumberland Mountain Storytelling Festival, Tennessee (Featured teller 2 separate years)
National Federation Genealogical Society Conference, Illinois
Talk Story Conference, Hawaii
Christian Storytelling Conference, Kentucky
Sterling Storytelling Festival, Illinois
ASCD Leadership Workshop, Illinois
National Storytelling Concert - Los Angeles, CA
Youth Educators and Storytellers Pre-Conference at NSN, LA, California
Michigan Reading Conference, Featured Author, Grand Rapids, MI
Iowa Reading Conference, Featured Author, Des Moines, Iowa
Indiana Reading Conference, Featured Speaker, Indianapolis
3 week Tour of South Korea, Taiwan, Shanghai, China and Hong Kong (2010)
Korean Association of Primary English Educators Conference, Keynote Speaker
5 week Tour of South Korea, Taiwan, Shanghai, China and Hong Kong (2009)
Taiwan Missionary Fellowship Conference
Great Lakes Social Studies Conferences in Illinois and Wisconsin
New England Storytelling Conference, Rhode Island
Wisconsin State Social Studies Conference
IASCD Kindergarten Conference, Illinois, Keynote Speaker - 4 years
Three Apples Storytelling Festival, Bedford, MA
International Storytelling Festival, Taipei, Taiwan
3 Week Tour in Taiwan for Release of New Book and Storytelling Workshops ( Aug. 08)
Greenlake Baptist Family Camp
International Christian Storytelling Conference
Ministry of Education in Nassau, Bahamas
Salvation Army School for the Blind, Nassau, Bahamas
Numerous Library Programs in Illinois
No Child Left Behind Conference, Illinois
2-week tour for educators in Taoyuan, Taipei, and Tainan Taiwan (July/Aug. 07)
National Storytelling Conference
Public Radio, New Hampshire
Midwest Storytelling Festival - Northlands Conference
National Christian Storytelling Conference
Rock Island Storytelling Festival
LANES - Sharing the Fire Conference
Equip Ministries Conference
Public Radio, Oregon
Tibe Bookfair, Taipei, Taiwan
Taiwan American School
Performance/Lecture Tour of Taiwanese Universities (Jan./Feb. 07)
Storylovers' World with Jackie Baldwin, Public Radio
National Storytelling Festival
Illinois Association for Curriculum and Development
Illinois Council for Social Studies
Illinois Gifted Conference
Quincy Conference
Rock Island Title I Conference
Starved Rock Title I Conferences
Illinois Regional Office of Education Institutes (throughout Illinois)
Illinois No Child Left Behind Conference
State and National Title I Conferences
Illinois Council of Teachers of English
National Association of Health, Physical Education, Recreation and Dance
National Association of Early Childhood Education
Missouri Lutheran Synod Educational Conference
Great Lakes Reading Conference
Illinois Young Author's Conference - Dr. Lockett has presented more than a dozen times in his career as a keynote speaker and storyteller at this prestigious statewide event held for Illinois Young Authors.
International Reading Conferences - Dr. Lockett has served as a committee member, workshop leader, presenter and storyteller at IRA Conferences. He has given presentations in Atlanta, Georgia; Boston, Massachusetts, Chicago, Illinois; New Orleans, Louisianna, Orlando, Florida; San Antonio,Texas; Minneapolis, Minnesota and Toronto, Canada.
Cruise Ships - Dr. Lockett has given special performances for children and families on Carnival Cruise Lines, Royal Caribbean, Norwegian and Celebrity Cruise Lines. (Video of program on Carnival is available on request)
Fraternal Organizations - Dr. Lockett has given presentations for the Elks, the Moose, Kiwanas Club, Optomists' Club, Rotary Club, Retired Senior Volunteer Persons, and other groups.
Churches and Religious Groups - Dr. Lockett tells stories and gives messages in churches of many denominations. He works with the International Christian Storytelling Network. His stories and music add to church programs. He wrote a chaper in The Art of Storytelling, by John Walsh (Moody Bible Institute.)
SPEBSQSA - Society for the Preservation and Encouragement of Barbershop Quartet Singing in America. (Now called the Barbershop Harmony Society.) Dr. Lockett is a member of the Sound of Illinois Chorus and sings lead in the "Fourtunates" quartet. He often serves as the emcee at programs for the Sound of Illinois Chorus amd emcees events for other choruses. He has competed at the international level with his chorus nine times from 2008 - 2016.
Tell Me A Story - Dr. Lockett was one of twenty tellers in the Television Pilot of the "Search for America's Greatest Storyteller. See the photo below.
Dr. Michael Lockett taught elementary school, middle school and high school students. He worked with all levels of students from the low achievers through the gifted and talented. He served more than a dozen years as a central office administrator (Director of Title I and Summer Programs) and as a middle school/high school principal. Dr. Lockett received the Ilinois "Those Who Excel Award for School Administrators" in 2002. He has taught undergraduate and graduate classes
at Bradley University, Aurora University, and Western Illinois University. He has served multiple school districts, regional offices of education and the Illinois State Board of Education as an educational consultant. He served as a reading council officer for over 25 years working with the MID-State Reading Council, the Illinois Reading Council and served on committees for the International Reading Association.
Dr. Lockett is known today for being a motivational speaker, for his talks on helping at-risk students, for his performances as "The Normal Storyteller," and for his children's books. He is an award winning children's author. Dr. Lockett is a teller of traditional tales. He has uses audience participation to tell tales and actively engage listeners in the telling of his stories. In addition to his children's books (see above), he has produced five award winning audio CD's and an award winning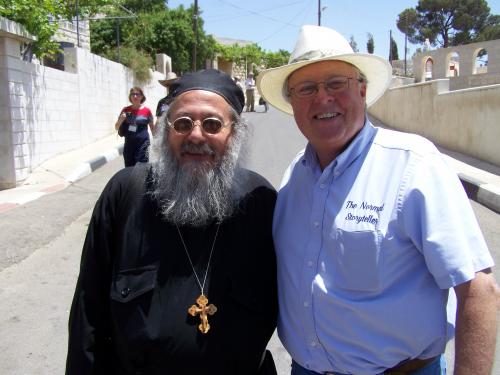 DVD. Mike released his first Christmas album in 2012. He is currently working on an album of religious stories, Tales of Faith.
Dr. Lockett's Audio Recordings:
"Nursery Rhyme Readers," A collection of classic books that promotes phonemic awareness and builds the foundation for reading success, Published by Scholastic Singapore, 2014. Scholastic says, "Read and sing along with Dr. Mike Lockett, a leading professional storyteller. With classic nursery thymes perfectly accompanied by engaging and expressive reading, delightful tunes and creative sound effects, this box is a must have for every child."
"Tales from the Hills" features Appalachian tales along with music performed by Lockett and his youngest son.
"Tales from Around the World" (2006) features ten folktales from different regions of the world - each told in a different dialect. Folk music, appropriate to each story sets the mood for the telling.
"Tales for the Young at Heart" (2007) was released during a special trip sponsored by Bookman's Publishers and the Taipei Book Fair in Taiwan. The album has eight stories, including retellings of traditional fairy tales, and four friendly musical selections. The album received the Preferred Choice Award from Creative Child Magazine in July, 2007 and was be featured in their holiday publications during November and December of 2007.
"Tales and Fables: East Meets West" (2008) was a joint effort between East - West Publishing Company in Taiwan and and Lockett's own company (Heritage Schoolhouse Press) in the USA. That album received the 2008 CD of the year from Creative Child Magazine.
"Christmas from the Heart" (2012) was created with the help of musician and vocalist Brad Brown from Mattoon, Illinois. The album was recorded by CSM - Creative Site's Media in Normal, Il. This album is geared more toward adults than Lockett's other albums. It tells the stories behind some favorite Christmas songs and shares the true meaning of Christmas. Lockett says the album is guaranteed to calm any troubled heart during the holiday season. *Winner of 2014 Storytelling World Award"
Lockett returned to Taiwan in 2008 and worked with Caves Educational Training Company LTD to publish The Basics of Storytelling, a "how to" book for Taiwanese teachers to use to learn to tell stories. The book is in Chinese. During the trip, Lockett recorded a DVD for children - "Grandpa Mike's Stories." The album has 12 international folktales - all told in English and each with Chinese subtitles. The Asian version of the DVD was released in 2008. The American version ("Tales of Delight") was released in July, 2009.
Dr. Lockett's Children's Books:
The Hungry Wolf (Coming Spring, 2017)
The Turtle Who Could Not Stop Talking (Coming Spring, 2017)
The Goats in the Garden (Coming Spring, 2017)
Humpty Dumpty and the Great Fall (English/Chinese, 2013) (English/Spanish, 2016)
Sky Food (English/Chinese, 2012)
Why Spiders Have Big Bottoms (English/Chinese, 2012)
Magic Eyes of Little Crab (English/Chinese, 2010)
Monkey and Rabbit Together (English/Chinese, 2010)
The Cat and the Mouse (English/Chinese, 2009) (English/Spanish, 2016)
Hickory Dickory Dock (English/Chinese, 2009) (English/Spanish, 2016)
Mary Had a Little Lamb (English/Chinese, 2009) (English/Spanish, 2016)
Teddy Bear (English/Chinese, 2009)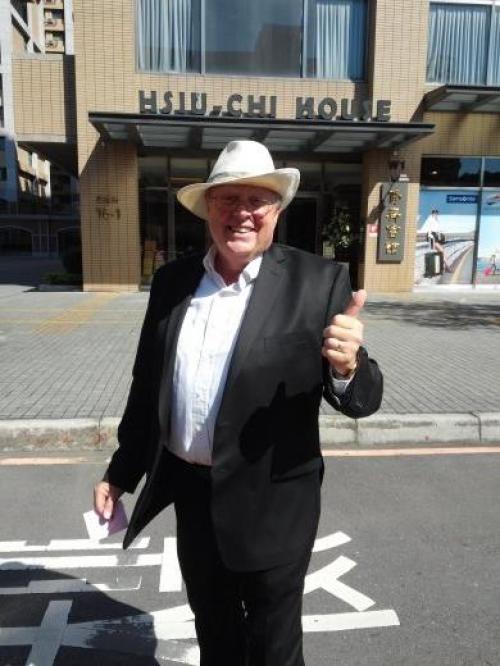 Visitors to this site can learn more about Dr. Lockett's books by going to the Publications area on this website or to Dr. Lockett's Products page.
Lockett worked with Saddleback Publishing and B.K. Norton to record the audio tracks for Unique Science and Technology in 2013.
Between 2011 and 2013, Mike and his wife, Becky wrote a series of 35 stories based on holidays around the world. The articles were in "Little DaVinci Magazine", published by Chang Tang Publishers in Taiwan. The stories can be seen in the January through December issues of the magazine. The stories were written in a dialog format to help Taiwanese readers in their efforts to learn English as a foreign language. Recordings of the stories are available on Chang Tang's on-line version of their magazine.
Mike recorded music and stories for 12 Mother Goose Books for Scholastic Singapore in 2014.
Mike created the music for and recorded the music and stories for two books for Scholastic in South Korea in 2016.
Lockett's professional resume is available upon request. Write to mike@mikelockett.com