Programs by Dr. Michael Lockett, "The Normal Storyteller"
International Storyteller, Children's Author, Keynote Speaker, and Workshop Leader
Dr. Lockett has given over 4000 programs in 30 states across America and in 15 countries. Some of the notable organizations Dr. Lockett has presented for include:
Illinois Reading Council – Featured Author, 2016 (Keynote presenter in other years)
Featured Storyteller at 18th Tehran International Storytelling Festival, 2016
National Storytelling Conference – Fringe – Strange-But-true Civil War Stories, Kansas City, 2016
Regional Storyteller, St. Louis Storytelling Festival, 2015 and 2016
Twenty-Two Storytelling Tours of Taiwan from 2005 – 2018
Fourteen Storytelling Tours of China from 2007 – 2016
Tennessee Reading Conference, Featured Author and Presenter, 2014, 2015
Featured Storyteller – Capital Area Storytelling Festival, Washington DC Metro Area (with Donald Davis, Geraldine Buckley and Sheila Arnold)
Illinois Education Association, 2015
White Mountain Storytelling Festival, Vermont, 2014 and 2018
MMC Starlight International Storytelling Carnival Roadshow in Taichung, Taiwan, 2014 (with Bobby and Sherry Norfolk, Mike Anderson and Jeff Gere)
Kentucky Reading Conference, Featured Author, 2013
Storytelling/Author Tour of Taiwan, 2012
Storytelling Troupe – Performing in Israel and Palestine, 2012
International Symposium on Teaching English, Taipei, Taiwan
Delaware Reading Conference, Featured Author
National Federation of Genealogical Society Conference, Keynote Speaker
Cumberland Mountain Storytelling Festival, Featured Storyteller, Workshop Leader, 2010, 2014
Hawaii – Talk Story Conference, Featured Storyteller and Workshop Leader (with Gene Tagaban, Lynn Ford, Jeff Gere, and Alton Chung)
Michigan Reading Conference, Featured Author, and Workshop Leader
National Storytelling Conference – Keynote Speaker for YES Pre-Conference
Sterling Storytelling and Arts Festival in Illinois
National Regional Storytelling Concert Performer, California
Korean Association of Primary English Educators Conference, Seoul, Korea
Tibe Bookfair in Taiwan, Featured Performer in 2007, 2008, 2010
Iowa Reading Conference, Featured Author
Indiana Reading Conference, Featured Speaker
Workshops in South Korea for JY Books
Storytelling Programs in China for Giant Elephant Books
Workshops in Shanghai for CK Washington and Kaiser Kastle Education
Workshops/Programs in Hong Kong for Sesame Publications and Commercial Books
Workshops/Book Release Performances for Brilliant International Group, Taiwan
TMF - Taiwan Missionary Fellowship Conference
New England Storytelling Conference, Rhode Island
Wisconsin State Social Studies Conference
Great Lakes Social Studies Conferences in Chicago and Madison
IASCD Kindergarten Conference in Chicago - Featured Presenter (multiple years)
Three Apples Storytelling Festival, Massachusetts
Workshops for CETC/Caves in Taiwan
Workshops for JOY English Schools in Taiwan
2008 International Storytelling Festival in Taiwan
Greenlake Christian Family Camp in Wisconsin, 2008
International Christian Storytelling Conference – multiple time - Speaker and Conference Planner
Illinois Elementary School Association
Midwest Conference for Early Childhood Educators
International Reading Association Annual Conferences in Atlanta, Boston, Chicago (3 X's), New Orleans, Orlando (2X's), San Antonio, and Toronto (2X's) - Featured Storyteller in Orlando, 2011
Great Lakes Reading Conferences in Grand Rapids, Michigan and Chicago, Illinois
Illinois Reading Council and Programs for IRC Affiliates throughout Illinois
National Council for Teachers of English
Illinois Association for Curriculum Development
National Association for Early Childhood Educators
Improving America's Schools Act Conferences
Illinois Urban Education Conference
Illinois Migrant Education Conference
Illinois Young Authors' Conference
Illinois Teachers of Mathematics Conference
Title I Region VII Technical Assistance Conference
No Child Left Behind Conference, Chicago, IL
Dancer and Folk Music Singer, Paris France
Dancer and Folk Music Singer, San Sebastian Spain
Dancer and Folk Entertainer at National Agricultural Fair, Santarem, Portugal
Dancer and Folk Music Singer at International Music and Folkdance Eisteddfod, Llangollen, Wales
Numerous Pgms. for Offices of Education, Schools, Churches, Libraries & Community Groups
Teaching English as a Foreign Language Through Storytelling – Wide range of workshops and seminars for teachers of English. Through lecture and demonstration, Dr. Lockett helps teachers learn to improve students' speaking, listening, reading comprehension, reading fluency and vocabulary (including international seminars in Bahamas, China, Iran, South Korea, Taiwan).
All-School Assemblies – Programs vary for each school. Dr. Lockett's preference is for 45-55 minute assemblies. Dr. Lockett can work with any age or ability grouping and provide stories that are age and content appropriate. All of his programs are clean and free from bias.
Festival Storyteller – Call on Dr. Lockett for programs and workshops at festivals. Folk Tales, Children's Stories, Audience Participation Tales, Mother Goose Stories, Ghost Stories, Civil War Stories, Christian Stories, St. Patrick's Day Stories, Patriotic Stories, Personal Tales & more.
Artist-in-Residence – Dr. Lockett provides programs of various lengths in storytelling, reading, social studies and writing to help schools meet Common Core and state learning standards.
Middle School and High School Lectures – Dr. Lockett gives highly popular talks for students. He discusses how stories and propaganda have changed world history and societal behaviors. He talks about international travel in 15 countries where he has performed. He skillfully weaves stories, cultural awareness, modern politics with historical events and world geography.
Young Authors' Meetings – Dr. Lockett is a keynote speaker and storyteller at many young authors' conferences. He weaves messages about reading and writing between his fun-filled stories. Parents receive ideas about how to help their children at home. Students get a renewed sense that reading and writing stories is fun. Book Dr. Lockett to kick off a Young Authors' Campaign or to celebrate the students' success at writing at a Young Authors' Tea or Party.
Parent Programs – Dr. Lockett is a frequent presenter for parent programs and family literacy nights. Parents applaud his expertise. Lockett shares research and practical education tips between the laughter and fun. Providing clean, high quality programs to students and their parents is such a high priority for Dr. Lockett that he offers schools discounted rates for family programs in the evening for schools that book him for storytelling assemblies during the day.
Civil War Programs – Dr. Lockett visits schools dressed in his 1860's Civil War uniform to share stories of the War Between the States. He does not stress the blood and gore, but rather the "Strange – But – True Stories of the Civil War" that capture the attention of listeners of all ages.
Dulcimer Workshops – Dr. Lockett offers workshops in how to make and play an American folk instrument called the Dulcimer. He plays the dulcimer in many of his storytelling performances.
Churches – Sunday Schools – Vacation Bible Schools – Mike shares a Christian messages interwoven with good stories, poems that he has written and music of many types. He is a frequent presenter for Ladies' Organizations, Senior Saints, Children's Sunday School classes, Youth Groups and more. Dr. Lockett has presented at Family Life Camps, Missionary Conferences, and Sunday School Conventions. Ask Mike about his storytelling in Israel.
Community Programs – Dr. Lockett gives programs for many civic organizations and community groups including scouts, senior groups, nursing homes, Alzheimer's units, alternative education programs, fraternal organizations, and early childhood programs.
Senior Centers/Retirement Homes – Dr. Lockett recognizes the need to provide clean, high quality programs for today's retirees and seniors. He makes it a point to give heavy discounts to make it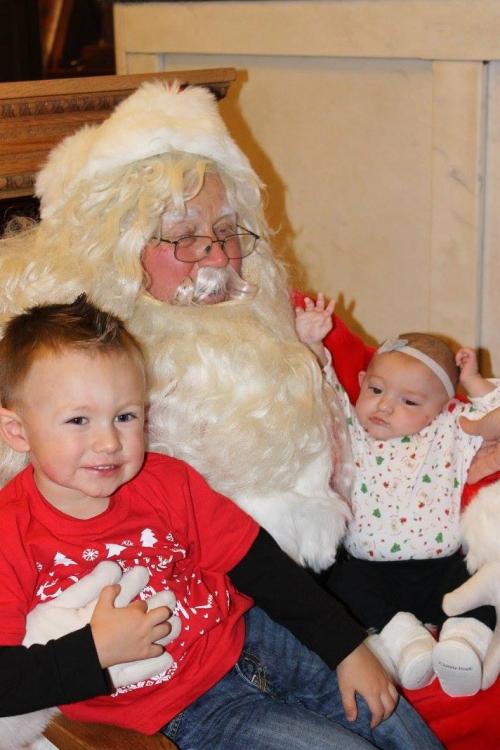 affordable for senior organizations to book his services. If you are an activity director at a senior living facility, go to Dr. Lockett's website at www.mikelockett.com and look at his calendar of events. If you want a program when he is in your area, call (309) 310-2299
Reading and Literacy Workshops – Dr. Lockett is a frequent presenter at education workshops and conferences across the USA He is a regular presenter at international conferences.
Teacher Workshops/Motivational Talks – Call or E-mail Dr. Lockett to plan a program that will meet your school or business needs. Mike works equally well with public schools, private schools, home/school groups and businesses.
Santa Claus – Experienced Santa with References – Public Programs and Private Programs – Limited to Illinois area.