Feature Article on The Normal Storyteller
Published May 4, 2007
Tell a tale - Normal Storyteller unabashedly uninhibited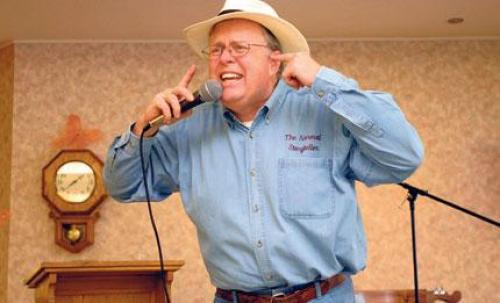 In Mike Lockett's telling of the traditional Appalachian tale of "The Preacher's Horse," the preacher has retired, sold his horse and prepares to board the train to move back to Baltimore.
The preacher tries to explain to an inattentive buyer how to make the horse stop and go.
Instead of "Giddy-up," say "Praise the Lord." Instead of "Whoa" say "Amen."
The train leaves and the buyer decides to race his horse against the train. "Praise the Lord," says the rider.
There is an Appalachian country ring in Lockett's voice. Slang contractions. Drama. Voice inflections. Sound effects of the clippity-clop of the horse hooves.
Lockett's voice races as the situation becomes a panic; the man has forgotten the instruction on how to make the horse stop.
"'Whoa,' said the man, Whoa,' and the horse just a-kept on going, and the horse is going over rough terrain and rough countryside. 'Whoa,' said the man. 'Come on. Stop horse.' And the horse wouldn't stop a bit. He's trying to think of everything possible, and the horse is headed straight for a cliff, straight for the side of the cliff and about to go over. And the man remembered and said 'A-men!'"
"And the horse stopped! Dead in his tracks."
A pause. The voice calms with the relief of the moment.
"Now, all the man could think of was, 'thank God.' And he looked up in the air and said, 'Praise the Lord.'"
A listener could derive a message about listening, or just get a chuckle. One value in the telling of "The Preacher's Horse" is that Lockett helps preserve it by retelling it.
"They deserve to be remembered," he said of these folk stories.
Going by the name The Normal Storyteller, Lockett shows versatility. He has made three CDs - one of Appalachian lore, one of children's stories and one with world lore told in dialects, including Irish, Englander and Jamaican.
His booking schedule, which includes dates at national and regional conferences, speaks to talent. Later this year, Lockett expects to take his second fully paid tour to Taiwan, where he presented recently at the Taipei Bookfair and at five universities in Taiwan. He's working with a publisher to improve English translations of Asian tales.
Yet long-time tellers in the national circles are just getting to know this 57-year-old Normal Storyteller. It is natural that these storytellers pose this question to Lockett: Where have you been?
He'd been at school.
Both he and wife, Becky, retired on the same day, June 21, 2005, she as principal for Tri-Valley Elementary School, he as principal of Greeley Alternative High School in Peoria, after full careers as educators and after raising two sons, Michael and Mark, in a welcoming house - so welcoming, said Mark, that he'd sometimes come home to find his friends hanging out with his parents.
Mike pursued storytelling on the side during those years.
Post-retirement, Mike took six months to unwind before starting his full-time storyteller career. By then, he already had done 1,200 formal performances in addition to informal classroom telling.
Early in his teaching career, Lockett discovered - first covertly and then with his classroom door open - that he could use his storytelling hobby as a teaching tool and that his students, while learning, would consider the tales a perk of being in class.
The stories connected with students. He recalls a conversation in the early 1990s when an administrator invited him to talk to a select group of kids -- the good kids -- in a struggling inner-city Peoria school.
Lockett said he'd come, for free, but only if every student in the school was invited to hear him. The administrator warned him he'd be chewed up by the larger group.
"About two minutes into the first story, I had every single kid in there in the palm of my hand," said Lockett.
His spinning dates to childhood.
Once upon a time, Lockett was a 7-year-old in Sunday school in Rockford listening to two Swedish ladies telling Bible stories. They'd get all choked up, sometimes unable to continue, as they recounted the love of the Lord.
Mike decided he'd help out. He started doing a bit of advance study so when the Swedish ladies got weepy over Jesus stories, he'd hop up and continue the lesson. He also took to imitating their accents as well as those of neighborhood kids who had moved from the South.
These days, there seems to be no inhibitions as he makes strange noises for sound effects and weird faces for visual effect - but there are and were inhibitions.
Overcoming a fear
He confesses that through the years he's been scared to perform for senior citizens. He traces it to an incident in which, in the middle of one of his stories at a senior home, a woman let off a loud, queer laugh, and then dropped her head to the table where she was sitting.
He feared she had died in the middle of his performance, but the other residents told him she did that all the time, and they insisted he continue. He went about a decade before his next performance at a seniors' home.
Lockett's voice gets a bit quivery when he fast-forwards to now. His mother, Peggy Lockett, has advanced Alzheimer's disease, forcing her into a nursing home and bringing her storyteller son back to senior-citizen audiences.
He has performed impromptu at the Gowin Parc home in Mattoon, where his mother lives, and it's one of the few times his mother can recognize him.
"At least for a few minutes, it's like life comes back to their eyes. Yeah, I'm no longer scared to go. I welcome the opportunities."
The trauma that accompanies his mother's illness still can be used to the good.
Performing the other day for volunteers at Good Samaritan Home in Flanagan, Lockett diverted from entertainment to talk about his family. His father, Bobby Lockett, sold his home in Rockford because the family wanted Peggy in the Mattoon home and he had to be with her. As the son tells it, Bobby's life has become enriched as he cares for his wife and other women at Gowin Park and volunteers in the community.
"Volunteers have given life back to my father. Volunteers have given dignity and love and care to my mother. Volunteers, on days I wanted my bawl my eyes out and I wanted to give up because I was hurting so bad, volunteers gave love and comfort to my brothers and my sister and myself."
Helping the new teller
At a meeting of Twin City Tale Spinners last month, Lockett again was in the encourager. He violated a fundamental rule of performance telling: He stopped his story to point out a mistake. Easy to see why: He was looking at a newcomer who had struggled during his own story.
Lockett is a giver for the storytelling guild. He is the first person since Tale Spinners formed in 2001 to serve two years as president.
But Tale Spinners also has given to him.
As master storyteller John Walsh explained, Lockett's work schedule as an educator kept him from taking advantage of the guilds. "Consequently, his telling was ingrown," said Walsh.
Lockett now has a forum to try new types of stories, and he studies under Walsh to improve Bible-telling stills. The Tale Spinners show him different styles and provide professional critiques. It's been an adjustment, but one forcing him to expand his skills and take risks.
The Tale Spinners point out flaws and suggest improvements for a piece, but they also point to strengths.
Guild member Dave Walsh said Lockett has a talent for keeping stories condensed; he's had to keep them tight, performing all these years for child-sized attention spans.
Every so often, Lockett is reminded of a lasting impression he made on young lives over the years.
Performing for a class at Bradley University a couple years ago, Lockett noticed a young women in the audience who was deep in thought.
After his performance, recalled Lockett, she came up to him. He quotes her: "Your voice. I recognize it. You're that storyteller. That, yeah, that Normal storyteller. You're the guy from Normal who came to Grant School. I was in sixth grade when I heard you, and you told that story about Lazy Jack."
And that's how he became The Normal Storyteller.
On the Net
At www.mikelockett.com, The Normal Storyteller has printer-friendly versions of "Lazy Jack" and other stories, and he invites people to use them. For those he has written, he seeks credit only if they are reused in performance. All other tales are "public domain," meaning they have no copyright restrictions.
---
Meetings offer coaching for old pros, beginners
By Steve Arney | sarney@pantagraph.com
Miss Elizabeth is a woman with three rich sons but who refuses their generosity. Each decides to surprise her for her birthday.
One gets her a car. One builds a theater attached to her home. The youngest buys a parrot that recites the Bible.
As Dave Walsh tells the Miss Elizabeth story, 10 listeners are seated classroom-style in the lower-level conference room of the Normal Public Library. They are fellow members of the Twin City Tale Spinners and they are hooked by the teller.
Walsh goes into great detail on how the youngest son first wanted to give her a Bible but then was set on the parrot. The man would offer, the monks would refuse, he would raise the offer, and so on. Eventually, unable to pass up the riches that will help their causes, the monks sell their Bible-speaking parrot.
Miss Elizabeth's birthday arrives.
About the Rolls-Royce: She's angry. She can barely see. She doesn't know how to drive. She doesn't have friends to visit.
The theater: More anger. She can barely hear. She has no friends. What's she going to do with a giant theater?
As for son No. 3, Miss Elizabeth is pleased at his thoughtful gift. She says, "Son, that chicken was delicious."
After the laughter dies, Walsh wants to know: How can he tell it better? Those gathered get amusement, but they come to the Twin City Tale Spinners' monthly meetings foremost to improve their craft for telling elsewhere, sometimes as paid performers.
The storytellers' guild formed in 2001 and among those in the group are storytellers who bring their work to the community, the region, other parts of the nation and increasingly to other parts of the world.
Any town of any size has a storytelling guild like this, said one of the Tale Spinners founders, John Walsh of Bloomington (Dave's father, incidentally). But the Bloomington-Normal group seems more organized and more accomplished than groups in similarly communities, he said.
A group like this normally has a full-time professional and some who are paid, part-time tellers, he said. Twin City Tale Spinners has three full-time professionals: himself, Mike Lockett and Linda Garbe. Among international accomplishments reported by group president Lockett:
John Walsh travels to Asia, Eastern Europe and Latin America to teach preachers and missionaries how to tell Bible stories.
Lockett has performed in Taiwan at an international book fair and in Canada and the Caribbean.
Vivian Carter went to Jamaica to help with library organizing and performed while there. She did likewise in post-Katrina New Orleans.
Garbe is a recognized authority in business storytelling and has traveled in the United States and Canada teaching the craft.
John Kirk, retired professor and theater specialist, has performed storytelling during U.S. travels.
Dave Walsh is a part-time paid performer thinking about full-time work, and Arthur Avery, 15, is a national competitor among his peers.
But during a Thursday night coaching session, the resumes don't matter that much - except in deciding who is last in line. The beginners and mid-level "apprentice" tellers get the first opportunity to present.
So for a time at the April meeting, with most of the above-listed people in attendance, the floor belongs to Martin Coughlin. He's 10 years old in a room where seven of 11 attending have gray hair, and he is presenting his first story.
John Walsh believes this newcomer-friendly approach helps explain its success, as does its emphasis on apprentice learning, plus other factors, such as the support of Bloomington and Normal public libraries, which provide meeting space.
He also likes the group's tiered critiquing system during the monthly coaching sessions.
The teller decides how he wants to be critiqued. At Level I, he simply reads and gets no critique - for trying out a story. At Level II, the teller hears comments about what works well within the presentation. At Level III, the teller hears about flaws and gets suggestions for improvement.